Throughout the COVID-19 pandemic, millions of surgical masks have been discarded every day in Hong Kong, putting a heavy burden on landfills and potentially posing a threat to the marine ecology.
To help solve the problem, Hong Kong start-up ÖKOSIX® has launched the world's first medical-grade face mask, which is able to degrade into carbon dioxide, water and harmless organic substances within six months. The firm has already attracted the attention of a number of venture capitalists.
The ÖKOSIX team cooperated with the Hong Kong Nano and Advanced Materials Research and Development Institute (NAMI) to deploy electrospinning and optimised fibre technology to turn plant fibres and natural materials into NADEX® nanofiltration layers and OkomerTM materials.  ÖKOSIX's technology won a Gold Award at the 48th Geneva International Invention Exhibition.
In addition to manufacturing masks, ÖKOSIX also plans to develop and manufacture consumable products such as biodegradable air filters, nappies and sanitary napkins to promote an environmentally friendly, plastic-free life.
Eddie Yu, Founder of ÖKOSIX, met NAMI scientists at the Hong Kong Trade Development Council's (HKTDC) Eco Expo Asia several years ago, laying the groundwork for cooperation between the parties.
Mr Yu had been running a mask factory, but was aware that traditional masks were not good for the environment. He later sold the company and invested all the funds in research and development (R&D) for biodegradable masks. In order to shorten his R&D time and resources, Mr Yu chose to cooperate with NAMI, conducting research on the basis of their existing technology and then commercialising the research results.
Geneva gold
Mr Yu said the ÖKOSIX brand concept is "From Nature To Nature": the raw materials are from nature and will return to nature at the end of their lives, realising a circular economy. The firm sources various raw materials from the United States, Mainland China, Singapore and other places, and repeatedly tests to achieve the best results.
"In simple terms, traditional masks are made of plastic-heated, melt-blown and spunbond materials," Mr Yu explained. "For our biodegradable masks, we use plant cellulose, minerals, polysaccharides and various natural materials, combined with electrospinning technology, to make NADEX® nanofiltration layer. We also use optimised fibre technology to make OkomerTM materials, and then assemble into a fully biodegradable ASTM F2100 level 3 surgical mask with top protection, effectively blocking bacteria, viruses and droplets."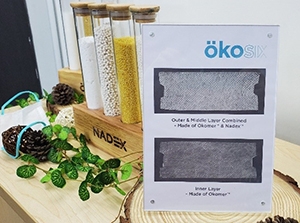 He pointed out that the entire ÖKOSIX mask, including the nose bridge and ear straps, can degrade within six months under the right conditions, at the same time having a good shelf life.
The product has passed the internationally recognised anaerobic (in the absence of oxygen) degradation test ASTM D5511, and the aerobically (in the presence of oxygen) degradable and compostable material certification ASTM D6400, as well as compostability and ecotoxicity certification EN 13432.
"Biodegradable, compostable certified medical-grade masks ensure ÖKOSIX masks can be completely degraded within six months, and will not produce microplastics, heavy metals or other substances that are harmful to the environment," Mr Yu said.
"We just won the Gold Medal at the Geneva International Exhibition of Inventions in March, and are preparing to apply for patents in Hong Kong, Mainland China, the United States and Europe."
Online, offline sales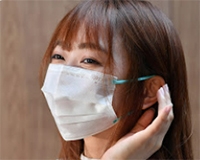 ÖKOSIX masks retail at approximately HK$4.5 (US$0.58) each, which is in line with plastid-made masks. In addition to setting up a self-operated website, Mr Yu plans to sell products through other online/offline shopping platforms and is actively considering opening a retail store that sells environmentally friendly masks and other sustainable products.
Many countries have lifted mask requirements as the pandemic has stabilised, but Mr Yu is not afraid of the impact on ÖKOSIX's business.
"In addition to consumers, medical institutions, large companies and other mask manufacturers are our target customers. Environmental, social and governance issues are becoming more and more important.  For this reason, corporates and also nations are willing to adopt environmentally friendly products," he said.
"We are already in discussions with many potential partners. In addition, pure, natural degradable materials have various applications, whether they are air filters, nappies and sanitary napkins, to replace the current plastic materials, which is a huge market. This is also a better option for our next generations," Mr Yu explained, highlighting why ÖKOSIX has attracted the attention of investors.
Collaborative research
Looking ahead, Mr Yu hopes to cooperate with the Environmental Protection Department to obtain samples from landfills to study the temperature, humidity and microbial ecosystem to fine-tune the biodegradability of the masks in hot, humid Hong Kong. "In a simulated landfill anaerobic degradation test, the product has degraded more than 90% within 90 days," he said.
Mr Yu added that he intends to further promote his business, reach out to overseas and mainland buyers, and explore the international market through HKTDC exhibitions and services.
Original article: HKTDC